Let assume you already have an active PayPal account but you don't know how to receive payment in Nigeria.
It is very simple and easy…. All it will take is a Payoneer Account… Yes.
Most people already have a Payoneer account but they are not aware that they can request for a new USD Payoneer Bank account that works with PayPal within seconds. Because the first US Bank account that Payoneer will assign to you won't work with PayPal but you can change it.
I am not going to educate you on how to create a Payoneer account. …. You can Google that.
The information I only want to share is that the First Century US bank account that Payoneer usually assign to customer can be changed to Community Federal Savings Bank account which can be linked to PayPal.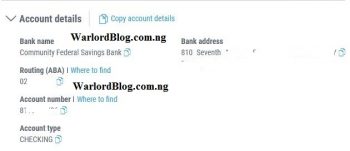 To replace your receiving account with one from an issuing bank that should work with Paypal, Stripe, or other payment providers:
Sign in to your Payoneer account.
Click on the Get paid tab and choose Receiving accounts.
Here you could filter by currencies to see the relevant receiving accounts. Click on each account to view the full details.
Click on the receiving account you're trying to use with your payment provider.
Click on the link to the solution guide.
Select the issue you are having with your receiving account and follow the on-screen instruction.
Changing Bank Accounts is done within seconds.
If you follow the above steps accurately, you will be assigned a Community Federal Savings Bank Account which can be linked to PayPal. Once you receive your PayPal fund into your Payoneer account, you simply withdraw to your Nigeria Local bank account at your Bank exchange rate.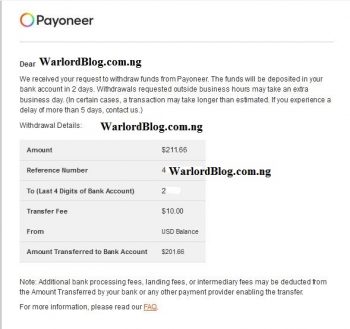 Enjoy.