THE MORTAL gods OF BIAFRA
Biafra, officially the Republic of Biafra, was a state in West Africa which existed from 30 May 1967 to January 1970; it was made up of the states in the Eastern Region of Nigeria.
A lot have been written about the men that sacrificed all for the emergence of Biafra. But how these men were presented is what differs.
god: a man who is widely admired or imitated (informal)
THE OLD gods
CHUKWUEMEKA ODUMEGWU OJUKWU
A military coup against the civilian Nigerian federal government in January 1966 and a counter coup in July 1966 by different military factions, perceived to be ethnic coups, resulted in pogroms in Northern Nigeria in which Igbos were predominantly killed. Ojukwu who was not an active participant in either coup was appointed the military governor of Nigeria's Eastern region in January 1966 by General Aguyi Ironsi.
In 1967, great challenges confronted the Igbos of Nigeria with the coup d'etat of 15 January 1966 led by Chukwuma Kaduna Nzeogwu who was widely considered to be an outstanding progressive and was buried with full military honours when killed by those he fought against. His coup d'etat was triggered by political lawlessness, and uncontrolled looting and lacing in the streets of Western Nigeria. Unfortunately the Sarduana of Sokoto, Sir Ahmadu Bello; the Prime Minister of Nigeria, Sir Tafawa Balewa; the Premier of the Western Region,Chief Ladoke Akintola and the Finance Minister, Chief Festus Okotie Eboh (among others including military officers) were killed in the process. The pogrom of Igbos followed in Northern Nigeria beginning in July 1966. Eventually, then Lt. Col. Odumegwu Ojukwu declared Biafra's Independence on 30 May 1967. (Biafra- 30 May 1967 to 15 January 1970).
He took part in talks to seek an end to the hostilities by seeking peace with the then Nigerian military leadership, headed by General Yakubu Gowon (Nigeria's head of state following the July 1966 counter coup).
Colonel Odumegwu-Ojukwu never lost faith in a peaceful solution of the crises, even though citizens of Eastern Nigeria were so traumatized they generally wanted nothing more to do with their fellow citizens-turned-killers. Yet he persisted on the path of peace. First, he insisted that the military hierarchy must be preserved; in which case, Brigadier Ogundipe should take over leadership, not Colonel Gowon. But Ogundipe no longer had the stomach to deal with a riotous army; he was easily convinced to step out and into the Nigerian High Commission in London. On September 29, the final phase of the planned Pogrom was executed, marked by its brutal bestiality. Still, while coping with the mass return of maimed and bruised brethrens from the North and West, Odumegwu-Ojukwu persevered; even when it had become obvious to his people that the basis for unity had been irreparably eroded, he still talked with whomever would listen. He never lost faith in seizing the moment to fashion out a lasting legacy for generations yet unborn.
And so they ended up in Aburi, Ghana on January 4, 1967 for a peace conference hosted by General Joseph Ankrah. The brilliance of Colonel Odumegwu-Ojukwu was apparent throughout the talk. He succeeded in convincing his colleagues to sign off on what became known as "Aburi Accord." Just when everyone thought that Nigeria was back on the path of peace, Colonel Gowon reneged and proceeded to split the Eastern Region unilaterally into three states on May 27, 1967! Three days later on May 30, 1967 and based on the mandate of the Eastern Nigerian Constituent Assembly, Colonel Odumegwu-Ojukwu declared Eastern Nigeria a sovereign state to be known as BIAFRA.
On July 6, 1967, Gowon declared war and attacked Biafra. And the Nigeria-Biafra War ensued. It was an international war, NOT a "civil war"; Biafra was already a sovereign state.  Besides, there was nothing civil about wars.  This war was most brutal and even barbaric.  For 30 bloody months, the war raged on. Now General Odumegwu-Ojukwu knew that the odds against the new republic was overwhelming, but he preferred to fight for what is right and defend the sovereignty of Biafra against what was obviously an illegitimate regime of General Yakubu Gowon. The unholy Anglo-Soviet alliance, using rogue Egyptian mercenaries fresh from the war with Israel, pounded Biafra and Biafrans with armaments big and small, including the use of hunger as a weapon of war – which resulted in the ravaging kwashiorkor.
Biafra lasted for 30 eventful months during which a potential, indigenous African superpower almost emerged. But the forces against Biafra were enormous. On January 9, 1970, General Odumegwu-Ojukwu handed over power to his second in command, Chief of General Staff Major-General Philip Effiong (now late), and left for Côte d'Ivoire, where  President Felix Houphöet-Boigny — who had recognized Biafra on May 14, 1968 — granted him political asylum.
On 26 November 2011, Ikemba Odumegwu Ojukwu died in the United Kingdom after a brief illness, aged 78. The Nigerian army accorded him the highest military accolade and conducted funeral parade for him in Abuja, Nigeria on 27 February the day his body was flown back to Nigeria from London before his burial on Friday, 2 March 2012. He was buried in a newly built mausoleum in his compound at Nnewi. Before his final internment, he had about the most unique and elaborate weeklong funeral ceremonies in Nigeria besides Chief Obafemi Awolowo, whereby his body was carried around the five Eastern states, Imo, Abia, Enugu, Ebonyi, Anambra, including the nation's capital, Abuja. Memorial services and public events were also held in his honour in several places across Nigeria, including Lagos and Niger state his birthplace, and as far away as Dallas, Texas, United States.
Sources: Logbaby and Wikipedia
BRUCE MAYROCK (6th May 1949 – 30th May 1969)
In a far away land, interred within a nondescript grave at the Mount Ararat Cemetery in Suffolk County NY, his resting place marked by a modest plaque with the inscriptions 'idealist, zealot, student' lies Bruce Mayrock, a 20 year old student of Columbia University who died on 30th May 1969 shortly after setting himself on fire in front of the United Nations Building to protest the atrocities that were being unleashed on the people of Biafra at the height of the civil war.
He had been carrying a large cardboard sign on which he wrote 'You must stop the genocide….Please save 9 million Biafrans'. At the bottom of the sign a quotation read, 'Peace is where there is an absence of fear of any kind…'
Bruce Mayrock came from a very wealthy family, having descended from the Fortunoffs. His family stated that he had worked actively to protest the war in Biafra, writing letters about the war to the US president and other leading government figures.
In utter frustration and desolation that no one appeared to be listening, he decided to draw the attention of the world to the Biafran plight the only way he felt he could do so….by sacrificing his own life. Someone once said that some prices are so high that they can only be paid in blood.
Source: Oracle Newspaper
JOSEPH "HANNIBAL" ACHUZIE
Prior to joining the Biafran Army in May 1967, Achuzie had been a soldier in the Nigerian Army but fled to the southeast in fear of anti-Igbo sentiment among his fellow soldiers. After Biafran soldiers were forced to retreat across the River Niger Bridge into Onitsha on September 20, 1967 Achuzie was promoted to Major and given command of the Biafran 11th Battalion, responsible for defending the area between Atani and Ndoni from an imminent Nigerian attack. After the Biafran 18th Battalion under Colonel Assam Nsudoh was forced to retreat from Onitsha after 8 days of bloody house-to-house fighting, the 11th Battalion under Maj. Achuzie linked up with the 18th Battalion east of the city and made plans to counter-attack. The 18th Battalion swung south along the Old Market Road while the 11th Battalion under Maj. Achuzie swung north along the New Market Road in a coordinated Pincer movement. The majority of the 5,000 man Nigerian 2nd Division stationed in Onitsha were either massacred or taken prisoner by Achuzie's men. Two separate counter-attacks were made by the Nigerian 2nd Division in the days following the Biafran assault but were both thwarted by the 11th and 18th Battalions stationed in Onitsha. Achuzie was given total control of the Biafran 11th Division on January 19, 1968 by President Ojukwu once the Nigerian 2nd Division under Murtala Mohammed reached Awka, giving the Nigerians a direct route to Onitsha. The 11th Division under Maj. Achuzie managed to hold off the Nigerians for 2 months until an offensive launched on March 20 resulted in the Nigerians breaking through the Biafran defensive lines surrounding the city, the final battle would last less than 24 hours. The Nigerians were forced to pay with heavy casualties but they managed to capture Onitsha and forced the Biafran 11th Division to retreat to Nnewi.
On May 19, 1968, Achuzie was transferred to Port Harcourt and made commander of all Biafran soldiers within the city. Port Harcourt was subjected to heavy Nigerian artillery bombardment while defending Biafran troops fiercely resisted. During five days of heavy fighting, Port Harcourt's airport and army barracks changed hands on numerous occasions but by May 24 most Biafran troops had been pushed out of the city into the surrounding areas. Maj. Achuzie stubbornly continued to fight against the Nigerians before narrowly escaping death after almost being run over by an armored car; it was then that Maj. Achuzie abandoned fighting and retreated to Igrita. On September 22, 1968 Maj. Achuzie took part in an attempt to re-capture the Obiangwu Airstrip from the Nigerian 22nd and 44th Battalions but was instead forced to retreat. On March 15, 1969 the Biafran S Division under Major Timothy Onwuatuegwu made a frontal assault on the 16th Brigade but was forced to halt after suffering heavy casualties. Maj. Onwuatuegwu placed half of his men under the command of Maj. Achuzie and were able to get within 1 km of the city. Major Achuzie demanded total control of the S Division but was refused by Onwuatuegwu and the two men almost shot each other after drawing their guns. President Ojukwu stepped in and gave Major Achuzie control of the S Division for one week, continuing the frontal assault on Owerri. Achuzie's plan ultimately failed and he retreated after suffering heavy casualties, Ojukwu then immediately restored Onwuatuegwu as commander. On January 9, 1970 President Odumegwu Ojukwu officially placed all remaining Biafran soldiers under the command of Maj. Achuzie and gave his vice president Philip Effiong his title of President. Three days later on January 12 Effiong, Achuzie, and other Biafran officers made their way to Amichi and later Owerri to broadcast their final surrender to General Olusegun Obasanjo.
After Achuzie was released from prison in 1970, he officially retired from military activities and moved to Asaba, his home-town. He lived there until his death from natural causes on February 26, 2018: he was 88–89 years old.
Source: Wikipedia
COLONEL TIMOTHY ONWUATUEGWU
The man Timothy Onwuatuegwu, is an indigenous son of Igbo Land. Before his death, had his allegiance to Nigeria, between 1961-1966 and to Biafra between 1967-1970.
Colonel Onwuatuegwu didn't see much action until Operation OAU in 1968 when he and Biafran Colonel E.A. Eutuk were put in charge of defending Owerri, Umuahia, and Aba. Onwuatuegwu fought against the forces of Nigerian General Benjamin Adekunle in May 1968 but lost the city to Murtala Muhammad's men on August 28, 1968. On July 18, 1968 Onwuatuegwu was able to capture the city of Umuahia from Benjamin Adekunle after many days of heavy fighting. On April 21, 1969 Onwuatuegwu assisted E.A. Eutuk's soldiers during the Defense of Umuahia in which Onwuatuegwu was able to drive off all Nigerian forces within a day of fighting
Col Tim Onwuatuegwu and the Biafran S. Brigade was about the most dreaded Biafran Army Unit. They liberated many Biafran cities from the Nigeria forces and fought till the immediate fall of Biafra.
The S. Brigade had three battalions headed by newly promoted Major Archibong, Major Atumaka and Major Okoi, under the leadership of the newly promoted Lieutenant Colonel Timothy Onwuatuegwu, who was later promoted to the Colonel, within a month of the formation of the S. Brigade, due to the achievements of the brigade. Onwuatuegwu's 2nd Battalion had been disbanded before the fall of Opi Junction by the saboteurs at the Biafran Army Headquarters, as they could not eliminate him as they did Chukwuma Nzeogwu.
Onwuatuegwu, Archibong (3rd Battalion), Atumaka (2nd Battalion), and Okoi (1st Battalion) of the S. Brigade formed the super four of the S. Brigade. The S.Brigade frustrated many efforts of the Nigerian forces to capture Enugu to the surprise of everyone. They held the federal forces in an urban warfare that stopped further advance. For months the relatively well equipped Nigerian army was pinned in Enugu by the S. Brigade. After months of formation of the S. Brigade, Col Onwuatuegwu formed the Biafran Ranger Regiment, under the command of Captain Matthias Nwadiegwu.
There are two accounts about Timothy Onwuatuegwu's death in days following the surrender. One account by his former co-conspirator Maj. Adewale Ademoyega states that he was tricked into attending a meeting at a hotel with federal officers of the 3rd Marine Commando Division. At this meeting, that was said to have occurred on January 15, he was summarily shot dead by vengeful officers personally aggrieved by the assassination of Brig. Ademulegun and his wife during the 1966 Nigerian coup d'état. An alternative account given by Col. Obasanjo states that during the process of surrender, Onwuatuegwu unsuccessfully attempted to ambush him near Amichi. After this he apparently made for the Cameroon border and was later killed in a firefight with Nigerian 1st Division soldiers. The truth about Maj. Onwuatuegwu's death remains a mystery.
Source: Biafra Heroes Facebook Page
CARL VON ROSEN
Count Carl Gustaf Ericsson von Rosen (August 19, 1909 – July 13, 1977) was a Swedish pioneer aviator, humanitarian, and mercenary pilot. He flew relief missions in a number of conflicts as well as combat missions for Finland (whose first military aircraft his father had donated in 1918) and Biafra. His flights for the Biafrans were notable for using the small Malmö MFI-9 in a ground attack role.
He gained international fame seven years later when he flew relief missions for aid organisations into war torn Biafra, a breakaway republic of Nigeria. These flights included flying a DC-7 from São Tomé to Uli at only a little above sea level in August 1968.
Disgusted at the suffering the Nigerian government inflicted on the Biafrans and the continuous harassment of international relief flights by the Nigerian Air Force, he hatched a plan in collaboration with the French secret service to strike back at Nigerian air power. He imported five small civilian single engine MFI-9 planes produced by Malmö Flygindustri, at that time owned by SAAB, which he knew could also be used for a ground attack role in warfare. He had the planes painted in camouflage colours and fitted with license manufactured 68 mm SNEB type rockets, and proceeded with a crew of two Swedes and two Biafrans to form a squadron called 'Biafra Babies' to strike the air fields from which the federal Nigerian Air Force launched their attacks against the civilian population in Biafra. On May 22, 1969, and over the next few days, von Rosen and his five aircraft launched attacks against Nigerian air fields at Port Harcourt, Enugu, Benin and other small airports. The Nigerians were taken by surprise and a number of expensive jets, including a few MiG-17 fighters and three out of Nigeria's six Ilyushin Il-28 bombers, were destroyed on the ground.
Despite his controversial methods, Count von Rosen would later be remembered for his efforts to modernize relief efforts to remote conflict zones. One of the notable figures assisting Count Carl Gustav von Rosen was Lynn Garrison, an ex-RCAF fighter pilot. He introduced the Count to a Canadian method of dropping bagged supplies to remote areas in Canada without losing the contents: a sack of food was placed inside a larger sack before the supply drop. When the package hit the ground, the inner sack would rupture, but the outer one kept the contents intact. With this method many tons of foods were dropped to many Biafrans who would otherwise have died of starvation.
Source: Wikipedia
THE NEW god
NNAMDI KANU
Nwannekaenyi "Nnamdi" Kenny Okwu Kanu (born September 1967) in Isiama Afara, Umuahia, Abia State, Nigeria. His father is HRM Eze Israel Okwu Kanu (JP) and his mother is Ugoeze Nnenne Kanu. He attended Library Avenue Primary School (now part of Government House, Umuahia) and went to Government College Umuahia for his secondary education. He later gained admission to the University of Nigeria Nsukka (UNN) but left after two years. He moved to London and studied Political Economics at London Guildhall University now called London Metropolitan University (LMU).
He is a British-Nigerian political activist. He is a leading member of one of several Biafran separatist organisations, the Indigenous People of Biafra (IPOB), which advocates a sovereign state for the Igbo speaking people of Nigeria as well as those from the south-south region of Nigeria. Kanu is the director of a London-based radio station named; Radio Biafra.
With the compliance of the Biafrans, Nnamdi Kanu set May 30th as Biafra Day and made it a public holiday. May 30th 1967 was the day Ojukwu declared Biafra.
On May 30th 2015, Nnamdi Kanu came to Aba, Abia State to organize Biafra Day and Aba stood still. The crowd was massive and majority came in sparkling white T-shirt as instructed. It was great.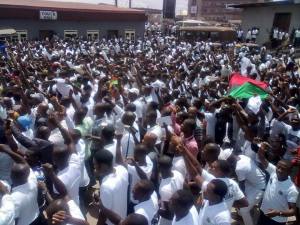 Kanu was arrested on treason charges in Lagos on 14 October 2015 and was detained in a Nigerian jail without trial for more than a year-and-a-half, despite various court orders that ruled for his release. When in court, Kanu appeared regularly wearing a Jewish prayer shawl and head covering. He said in court that he "believes in Judaism" and considers himself a Jew. His arrest sparked a lot of protest in Biafra land that led to the death of many. Since then thousands of IPOB members got killed while many still missing. Due to the many deaths of IPOB members, 30th May celebrations were turned into SIT-AT-HOME to avoid the shooting practices the Nigerian Army has turned harmless civilians into.
Later in the months, Amnesty International released a video report of a lot of things that happened.
On 28 April 2017 Kanu was released from prison on bail. Although the bail conditions were stringent some of which required the Certificate of Occupancy of a landed property within Abuja municipality, a level 16 officer in the Ministry, Kanu's lawyer said they eventually met the requirements in full. However, he refused to obey the court order on the grounds that the Buhari Led Nigerian Government doesn't obey court orders and that the bail conditions are infringements to his human right. He rallied around many Eastern States with multitudes following him around.
On September, 2017, it was reported that Nigerian Army invaded the house of Nnamdi Kanu.
Below is a report from Sun Newspaper:
Soldiers in Operation Python Dance II, this evening invaded the family House of the Leader of the Indigenous People of Biafra (IPOB), Nnamdi Kanu, at Afaraukwu, Umuahia, ransacked every part of the house and desecrated the palace of his father, the traditional ruler. They were said to have shot themselves through to gain entry into the highly secured and fenced compound having dislodged the human barricade that is always present at the gate and house of the IPOB leader. An unconfirmed family source said that about 18 people lost their lives during the invasion which occurred between the hours of 4 and 5 pm on Thursday. Another source said that only 4 person were killed by the troops, which allegedly opened fire and sustained shooting at the palace for more than 30 minutes. It was observed that between the times mentioned above, heavy shooting was heard coming from Afara area of the Umuahia, the state capital, which made residents to run for safety. Meanwhile, the whereabouts of the IPOB Leader is not known as efforts made to obtain information about him did not yield any fruit. It is not actually known the number of people that lost their lives during the attack.
After this attack, Nnamdi Kanu disappeared without trace with rumours that he might have died or captured.
In October, 2018, barely one year after the disappearance of Nnamdi Kanu, he appeared in Jerusalem, Israel. How he got to Israel remained a mystery to many.
Initially, the Nigerian Government started circulating rumours that the pictures of Kanu in Israel were faked. In the midst of that rumours he granted an interview on Israeli National Television
After that interview, he continued broadcasting on Radio Biafra while sighting his losses, however the Biafran struggle continued. On 15th January, 2019, Colonel Emmanuel Nwobosi, the only 15th January, 1966 coup d'état participant that is still alive gave the mantle of Biafra liberation to Nnamdi Kanu in a video broadcast officially making him the New god of Biafra.
He received the blessings of the "January 15th boys"; he received the blessings of the Old gods.
Several men sacrificed a lot for Biafra during and after the War. But how resounding were their names?